Progress in Mexico
Early one Saturday morning at the end of April, I traveled to Los Mochis, Mexico to visit our program staff and savings groups in the area. We have programs in both Ahome and Choix. My day began with an early flight out of the Detroit Metro airport where I snagged some Chick-fil-A breakfast and coffee and waited for my flight. I was flying Delta to Atlanta and then on to Mexico City where I would transfer to the domestic terminal and board an Aero Mexico flight to Los Mochis.
The flights went well with the exception of moderate turbulence strong enough to cause some minor nausea. After landing in Los Mochis, I was met by our friendly program manager, Dietrich Miller. Years ago at the age of 5, Dietrich moved to Mexico with his family. His parents, Len and Debbie Miller served at the DestiNations orphanage in Choix for many years.
On Sunday, we visited two savings groups in the Ahome area. The first group was at a church on the outskirts of town. The group members there were very excited to show us a machine they had just purchased for their tamale-making business. We were told that the pastor's wife makes the best tamales with the help of other ladies in the group. After lunch at Pastor Gustavo's home, we attended the group meeting in Ahome. They met directly after their church service. Their group is called "Stewards of God" and they have a payout of around $550 that rotates among 18 members.
On Monday, Dietrich and I traveled to Choix where we attended an evening savings group meeting. The group was newly formed, and I could sense a high level of enthusiasm. I spent Tuesday and Wednesday in Choix with Dietrich and Mario. Mario is our part-time Choix facilitator. He also teaches Spanish to Americans and travels some in his free time. When I attended a group meeting with Mario and Dietrich on Wednesday afternoon, I was grateful as I observed Mario doing a good job teaching the Open Hands curriculum to the group.
On Thursday I traveled back to Los Mochis to catch my Friday morning flight back to Detroit. The flights home went well with only one layover in Mexico City. I returned home grateful for the chance to see the impact of the savings group program in Mexico. We are grateful to God for the opportunity and the privilege He has given us at Open Hands to serve those experiencing the effects of poverty. We are also grateful for the privilege of serving you as our supporters. We thank you for your prayers and support for families in developing countries. You are making an impact both in this life and for eternity. -Joe Kuepfer -Executive Director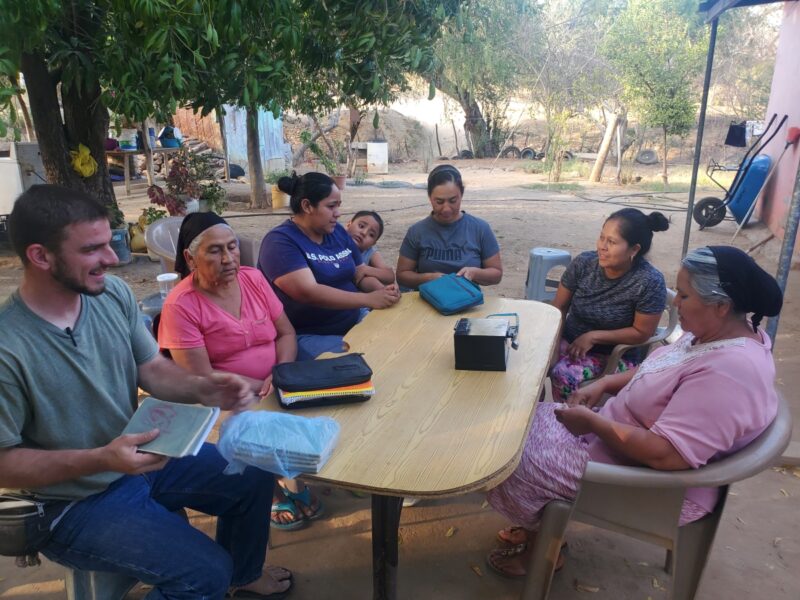 Reaching Hearts Affected by Poverty
"I love working for Open Hands. When I do a presentation about Open Hands often people who are not Christian will come to the meetings because they hear it is about money. Then I get an opportunity to share the gospel along with sharing about the program to people who would not normally come to a church service. It's amazing!" This is what Yiletza, our first facilitator in Arauca, Colombia told me around a year ago. Several years ago, I viewed poverty as simply a lack of resources. I saw the solution to poverty as being for those who have much to give to those who have little. In some cases, this is the solution and our duty as followers of Christ. But after spending time in Colombia serving the Venezuelan refugees, mainly through humanitarian aid and then later with Open Hands, my perspective has changed quite a bit. Often the stories we hear from those living in poverty are filled with difficulties such as death, divorce, abuse, broken relationships, and other painful things. I am learning that poverty often goes much deeper than what we see from the surface and therefore the lasting solution is not always as simple as it may seem. Open Hands is committed to helping the financially vulnerable through savings group ministry. Savings groups bring financial stability to the members but more importantly group members learn biblical truths about God, finances, themselves, and those around them. Savings groups also help to build community, restore relationships, and give members an opportunity to "bear one another's burdens".
Luis, pictured below, purchased a refrigerator for his family with the money he saved in the savings group he is a part of. His plan is to start a small "tienda" on his street corner and sell cold drinks and snacks. He has six children and struggles to make a sufficient living to support his family. The refrigerator will help him increase his income so he can better support them. For the last several years he has not been able to afford to send his children to school but with his new business and the help of some neighbors, his children have been able to go to school this year for the first time since they left Venezuela. Deivis, his oldest son who is standing beside him in the picture, helps to sell snacks on the streets when he is not in school. Deivis would also like to be a part of a savings group in the future. -Mike Weaver -Colombia/Venezuela Program Manager